Are you looking for professional roof cleaning in Palm Bay, FL? If so, our professional roof cleaning services are here to help you. We are Gator Pools & Power Washing, and we offer a wide variety of exterior cleaning services that can help you get your house clean in Palm Bay, Melbourne, and West Melbourne, Florida. As a professional roof cleaning company, we have the right tools, training, and experience to help you clean the exterior of your home. Take a look at our services below, and reach out to us to learn more about how we can help you!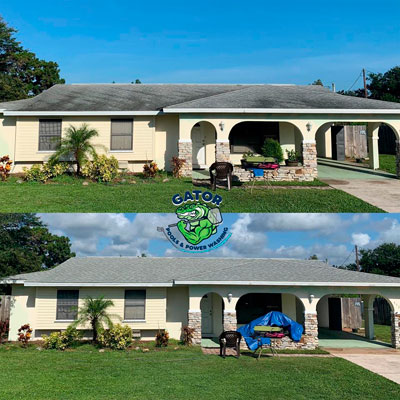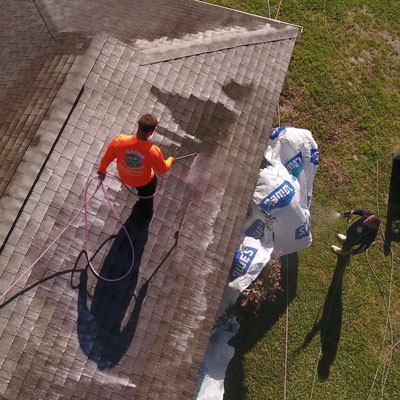 Professional Roof Cleaning Services in West Melbourne and Surrounding Areas
At Gator Pools & Power Washing, we are a professional pressure washing company. Our goal is to get the exterior of your home as clean as possible. This includes your roof. Your roof is your first line of protection against the effects of wind and weather. It withstands the harshest conditions, and over time, all that work will have an effect. If you notice black stains and streaks on your rooftop, what you are really seeing is the harmful and rapid growth of algae and mold. Our humid and rainy Florida climate creates a perfect environment for algae to grow, and unfortunately, if left untreated it will eat away at your roof shingles, slowly destroying them and ruining their effectiveness and lifespan.
Conventional pressure washing techniques are too powerful for roof shingles and often cause more harm than good. Our team of expert technicians use only soft washing methods that get to the root of the problem, stopping algae growth in its tracks and leaving you with a cleaner, healthier roof. The secret to our system is in the specially designed cleaning detergents, guaranteed to remove dirt and grime without causing damage to your roof. Our environmentally safe, biodegradable products are so effective that we typically don't even need to rinse the roof after our service.
Our proven process has made us one of the most trusted names in roof cleaning in Palm Bay. We are confident you will be happy as well.
Placing Your Needs First With Our Roof Cleaning Service
One of the things that sets our roof washing service apart is that we place the needs of our clients first every time. That is why we offer comprehensive cleaning services. For roof cleaning, this includes soft washing. What this means is that we turn down the pressure slightly to ensure we get your roof clean without placing the structure in harm's way.
This is particularly helpful for areas that have windows. That way, how our soft wash roof cleaning service will not damage any of your property. Soft washing also uses different cleaning solutions, meaning that we may prevent streaks from forming on your windows. We want to protect your property while still doing the job well, which is where our proven soft washing cleaning methods come in handy! Trust our cleaning professionals to place your needs first when we work with you!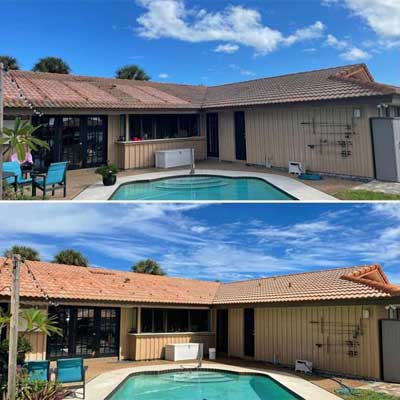 Why Should You Partner with Our Professional Roof Cleaning Service?
We understand that you have options if you are looking for roof cleaning in the local area.
Some of the reasons why you should partner with us include:
Our services are 100% satisfaction guaranteed, and we are available 24/7 to handle even the most challenging roof cleaning projects.
Our customer service is second to none. If you have questions about something we do, we are always available.
We are honest and transparent about how much our services cost. You will never be surprised by any bills or invoices.
For these reasons, trust the team from Gator Pools & Power Washing to help you take care of your property.
Contact Gator Pools & Power Washing Today for Roof Cleaning Near Me
If you want to keep the exterior of your house clean, you should work with a professional team who can help you. At Gator Pools & Power Washing, we always place your needs ahead of our own. We have become leaders in soft washing services throughout Palm Bay because of our commitment to excellence and building customer relationships. We do not take a cookie-cutter approach to our projects. Instead, we work with you personally, customizing our services to meet your needs. We believe this is the best way to deliver you the results you deserve. Contact us today to learn more about how we can assist you. We are always happy to help.